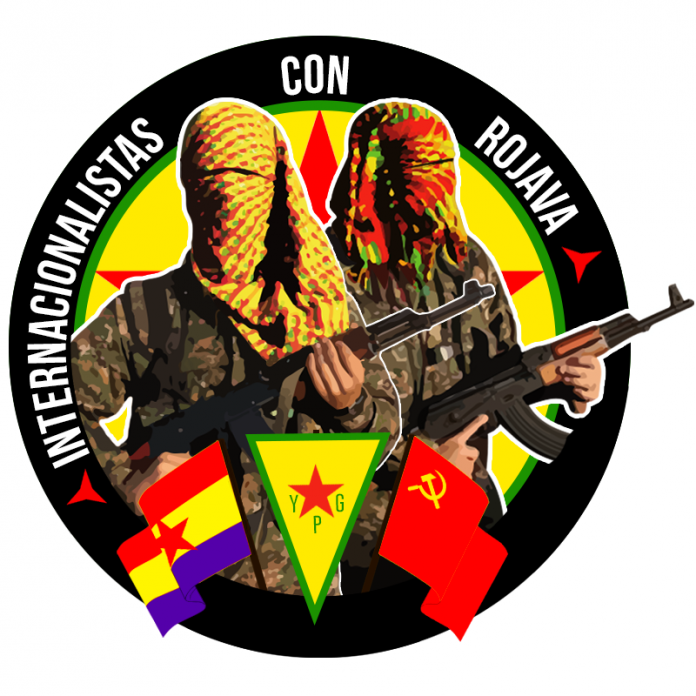 On Wednesday, January 27th, nine internationalists have been arrested on Spanish state territory. They are said to be militants of the communist organization 'Partido Marxista-Leninista /Reconstrucción Comunista' (Marxist-Leninist Party / Communist Reconstruction).
In July 2015 two young members of this very organization had been briefly arrested for joining the armed struggle of YPG against ISIS in the ranks of the 'International Freedom Battalion' (IFB) "without getting the authorization of the Spanish state". Obviously the intermediate liberation of these two internationalists just happened in order to prepare an even tougher blow against the international solidarity with the revolution in Rojava.
On the 29th of January 2016 the PML/RC now was prohibited for one year as a "criminal organization" that collaborates with the "terrorist organization" PKK/KCK. Even if PKK is not a prohibited party in Spain! While 6 arrested persons were released with the obligation to stay inside the margin of Spanish state, Roberto Vaquero as well as a Turkish citizen and another arrested internationalist were sent to Prison. The bail for the last two is 10000 and 6000 euros, for Roberto there is no possibility of getting free on bail.
We strongly condemn the criminalization of the revolutionary internationalists in Spain as much as the hypocrisy of the Spanish state. Spanish government along with all other European governments shed crocodile tears over the bodies of those killed by the fundamentalist terror attacks in Paris, now they criminalize those who put their lives and health at risk to fight against this very same fundamentalism without receiving money, a long military training or any securities.
The people struggling for freedom all over the world and the class conscious workers are standing behind them. The true arsonists for the dirty war in the near and middle east can be found in the governments of USA, EU, Russia and the reactionary regimes of Turkey, Saudi-Arabia, Qatar and Syria.
Furthermore the attack towards the Spanish internationalists has also other reasons. While the situation of the broad masses in Spain is getting worse and worse, the unemployment of youth is raising to 50%, so the radicalization of the youth might develop to a serious threat towards the Spanish state.
Let us organize solidarity, document it and send the information to detenidos27e@gmail.com and coordinationint@yahoo.co.uk!
Bank account for financial support:
IBAN ES57 3035 0393 09 3930010253
Abolition of the PKK ban!
Abolition of the PML/RC ban!
Freedom for the Spanish internationalists!
Communist Construction (Germany)
Marxist-Leninist Communist Party (MLCP) (Turkey/Kurdistan)
Marxist-Leninist Party of Germany (Germany)
Socialist Patriotic Democratic Party (PPDS) (Tunisia)
Revolutionary Organization of Labor (USA)
February 2016, at the Unity Congress of Socialist Patriotic Democratic Party (PPDS) (Tunisia)