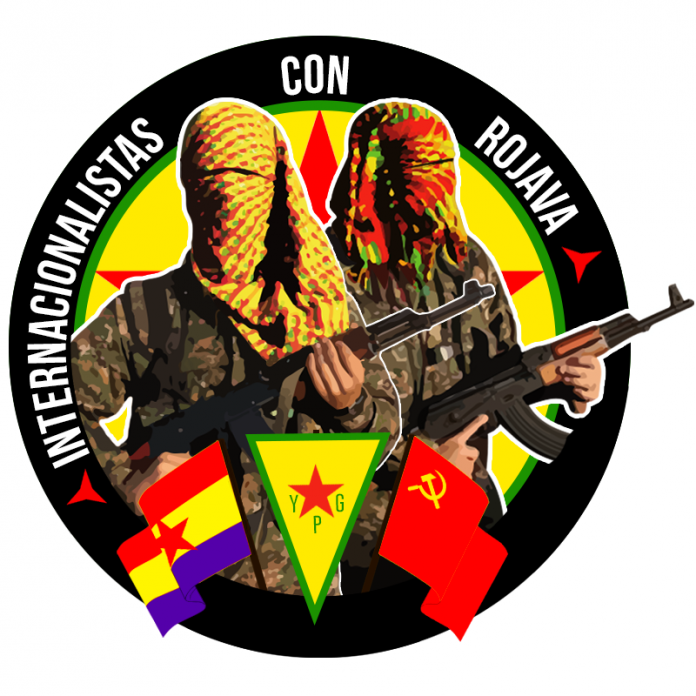 The Kurds, Arabs, Assyrian, Christians and other people that live in North Syria/Western Kurdistan (Rojava) have taken fate into their own hands in the Syrian war and started to free them theirselves through a revolution. Four years since a democratic self-administration is being set up in the middle of the brutality of the Syrian proxy war.
The revolutionary cantons of Afrin, Kobani and Jazira have to face especially the attacks of IS. Even the world power's governments as USA, Germany and France had to recognise that the revolutionaries of Rojava are the only 'reliable' armed force fighting IS in the region.
Rojva revolution proclaimed: We do not only fight for the Kurds, we fight for all peoples. We do not only fight for us, we fight for humaneness.
It called the people from all over the world to join the defense of the revolution in the ranks of YPG/YPJ (Peoples Protection Units and Women Protection Units). Hundreds answered this call. Among them two jung Spanish communists of the organization PML (RC)1 in 2015.
Although the Spanish state claims to also fight fascist fundamentalism it decided to take the two internationalists into custody when they returned in June 2015. Quickly they had been released – yet with prohibition to leave the country. It has become clear now that this only served to prepare a more severe blow against the organization and its convictions.
On January, 27th, 2016 several residences of Spanish communists, that are members of PML (RC), had been raided and examined as a part of the so called operation Valley. Multiple comrades were arrested and sent to prison. The organization's general secretary Roberto Vaquero was kept in prison for two months on base of accusations (possession of explosives) that have been proven to be faked.
PML (RC) is accused to be a criminal organization, their members are charged for participating in an armed conflict without the permission of the Spanish state. The state persecutor furthermore presents PML (RC) as the Spanish branch of the Kurdish Worker's Party (PKK).
PML (RC) and any activities in its name have been banned for one year. The fourteen affected accused are threatened by prison up to twenty years.
The honest democrats of Spain reacted indignantly to this trial and public media as much as the Spanish people show a lot of solidarity. It is also because of this pression that for the moment all members of PML (RC) are set free.
Yet the Spanish state already showed in June that they are not give up easily on their goal to criminalize the practical international solidarity and to prevent others from following their example.
The lawsuits will take about two years and the comrades have enormous costs to bear. Show your solidarity against their repression and donate. Show practical solidarity and call in your actions for immediate abatement of actions against the internationalists.
Donation account
IBAN: ES57 3035 0393 09 3930010253
detenidos27e.wordpress.com (Spanish)
1Marxist-Leninist Party (Communist Reconstruction), http://reconstruccioncomunista.blogspot.com/